What a busy and wonderful week the children in Senior Infants have had this week!
They have been taking part daily in the super active challenges set. Here are the children wearing their jerseys on Jersey Day and taking part in the rehearsal before their live Easter performance for all the boys and girls. The children were absolutely brilliant and their wonderful performance brought tears to Mrs. Clarke's eyes. She is so proud of her children in Senior Infants!👏🌟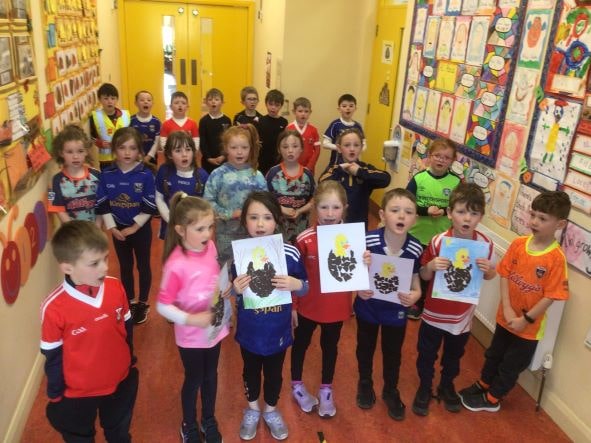 The children had such fun taking part in the skipathon on on Monday last during Active Schools Week. Look how they have mastered the art of skipping in Senior Infants! 👏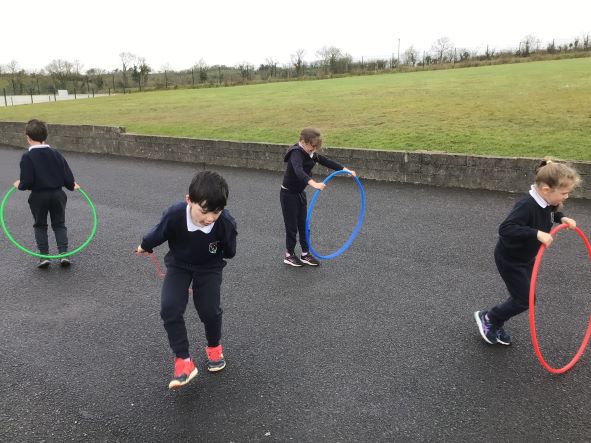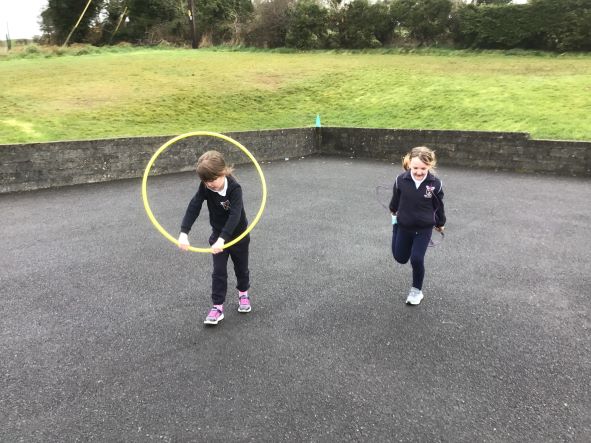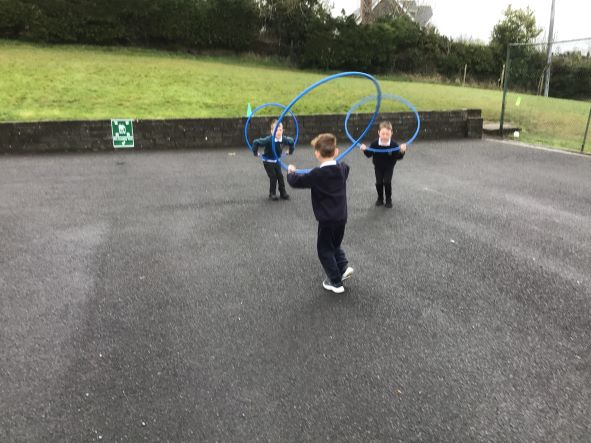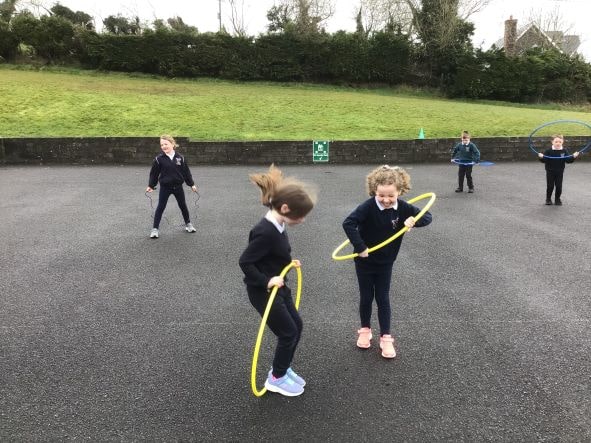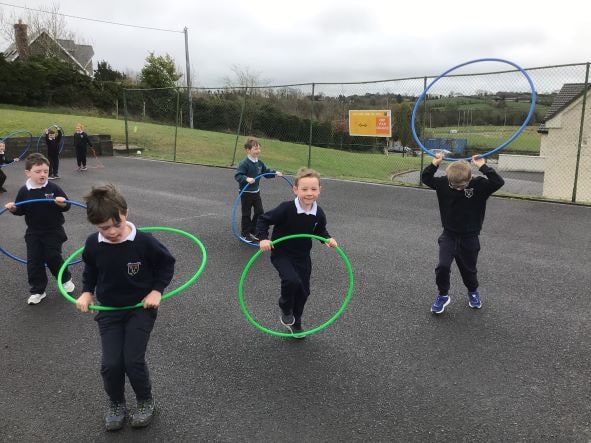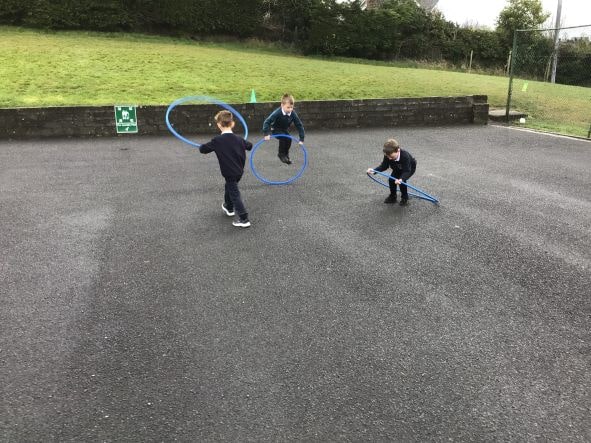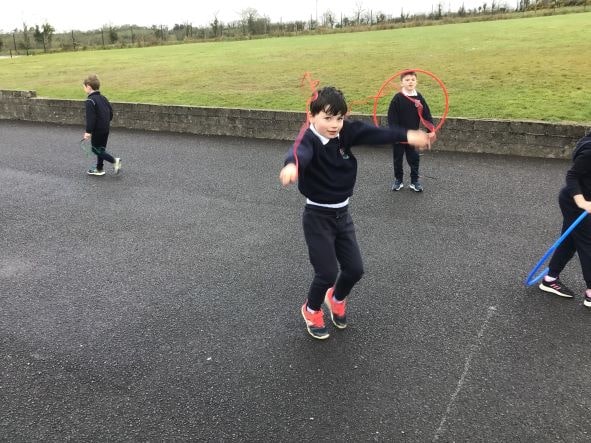 The children in Senior Infants constructed block houses in SESE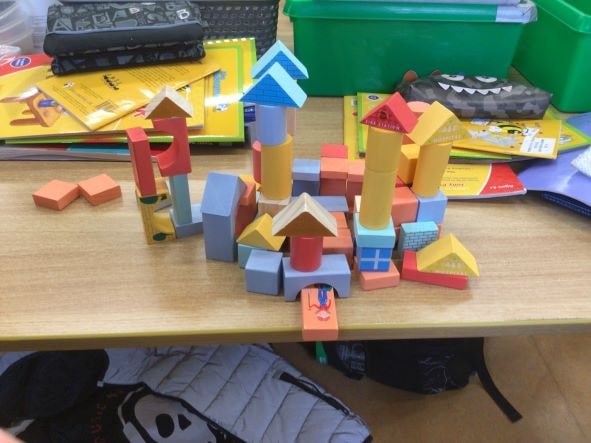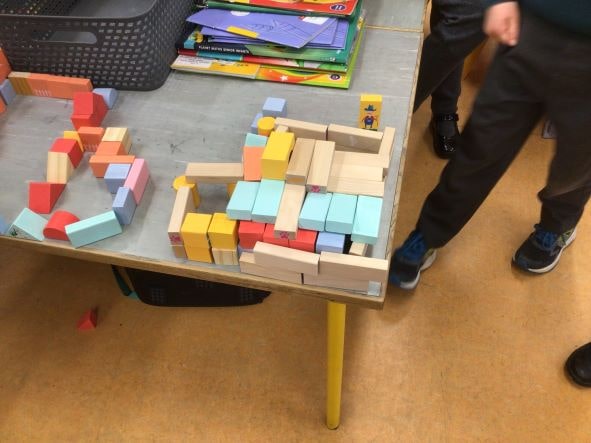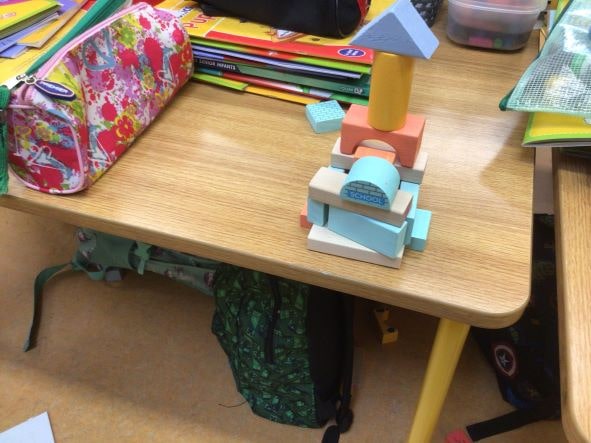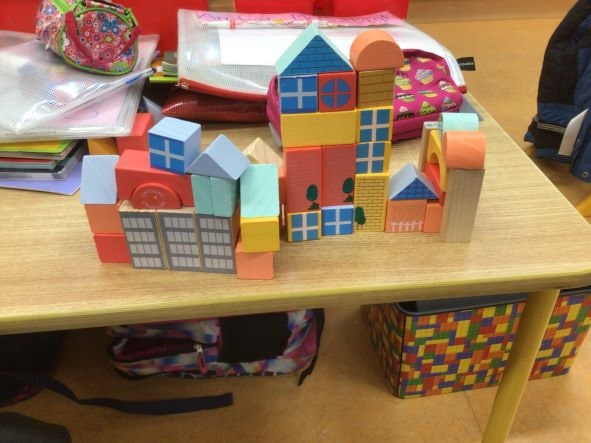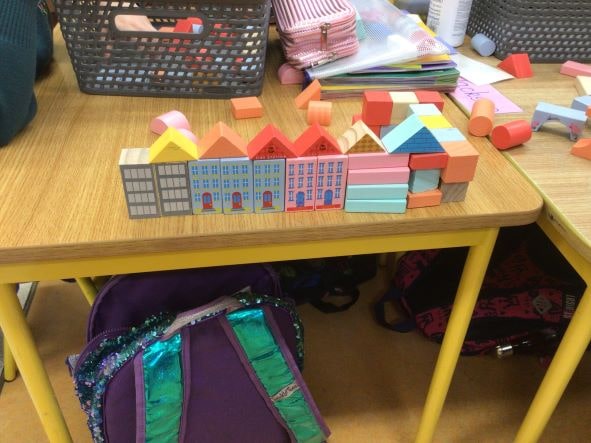 Senior Infants enjoying St. Patrick's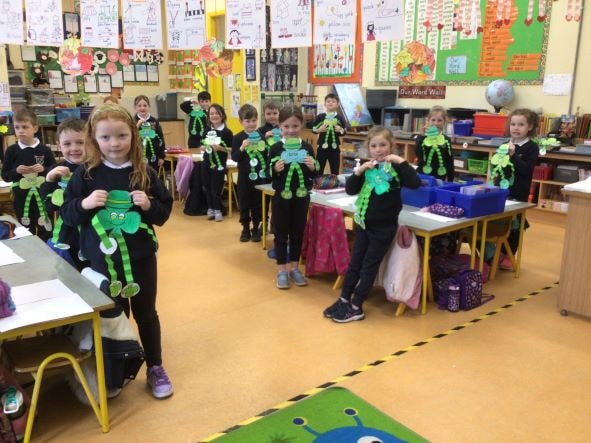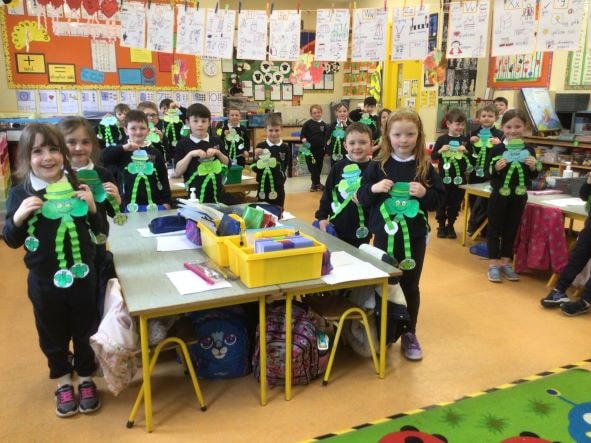 Senior Infants reading looking forward to celebrating Mother's Day with their Mothers. The children prepared beautiful cards with a poem called Mammy attached. The children even wrote the Irish greeting they had learned to say in their cards for their mothers.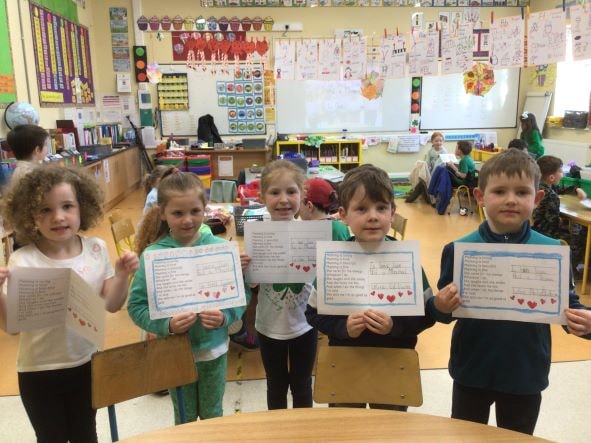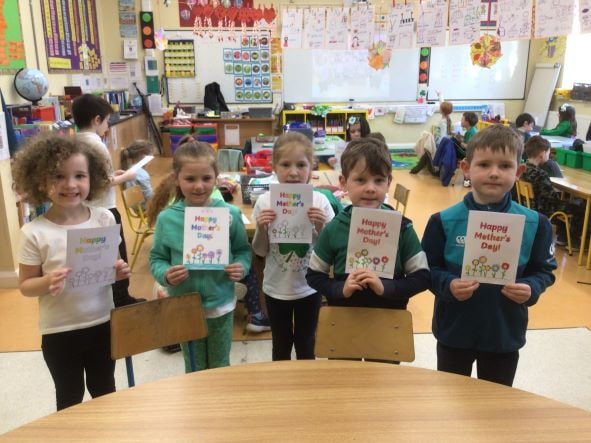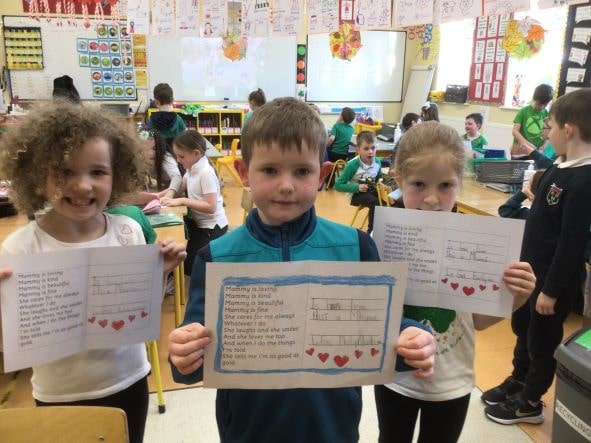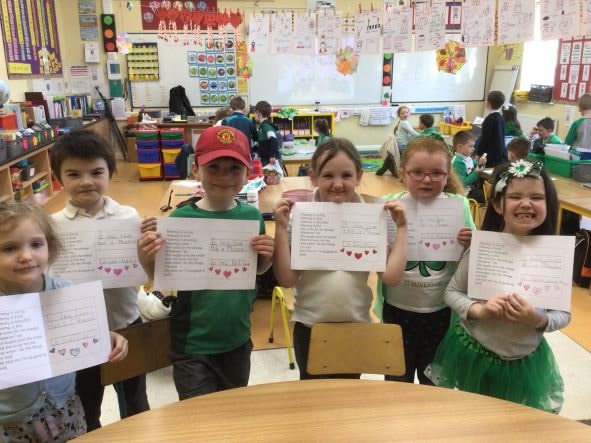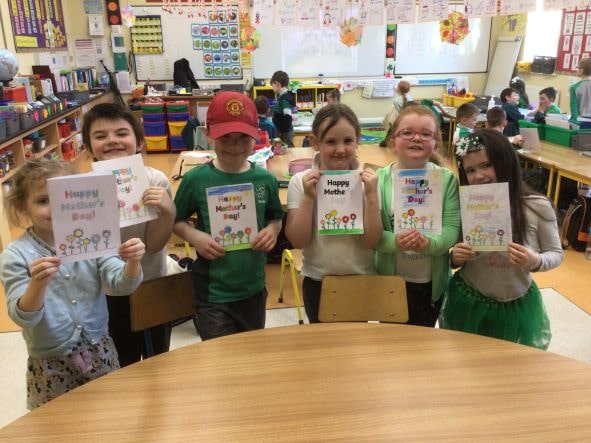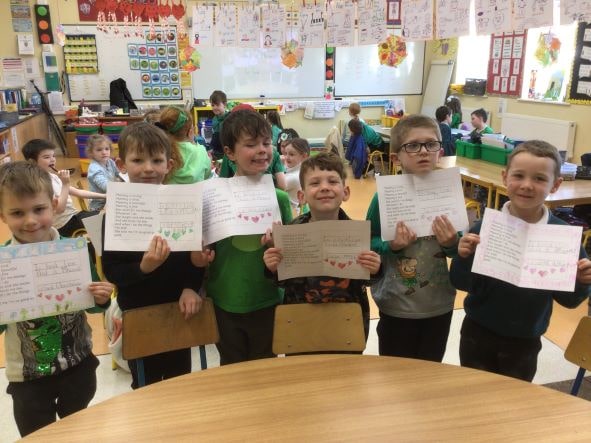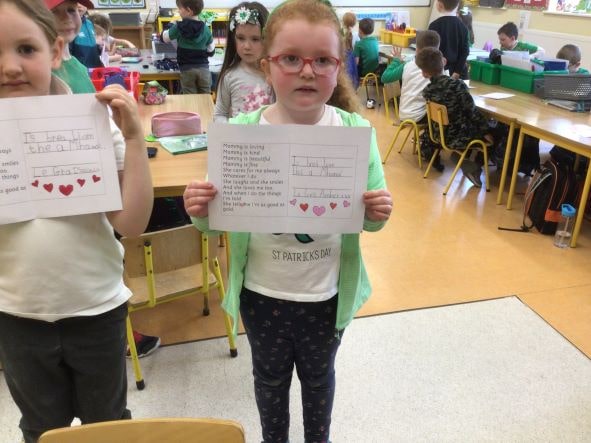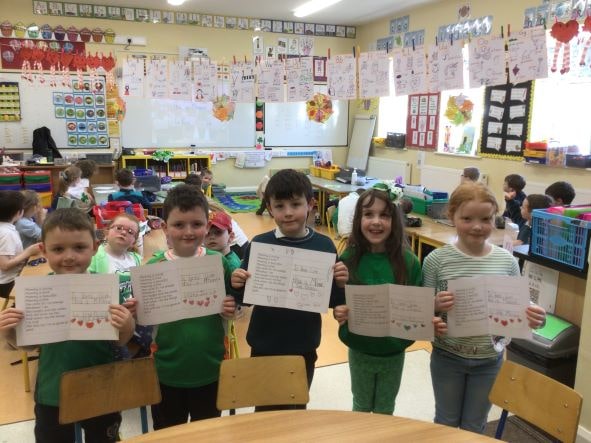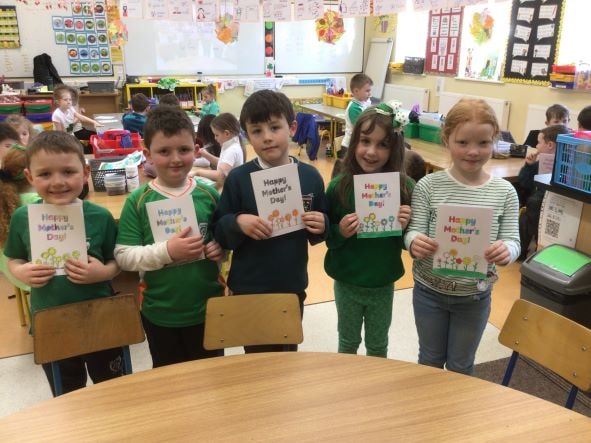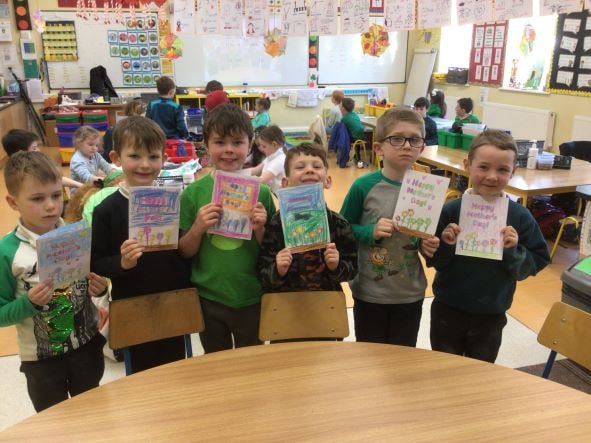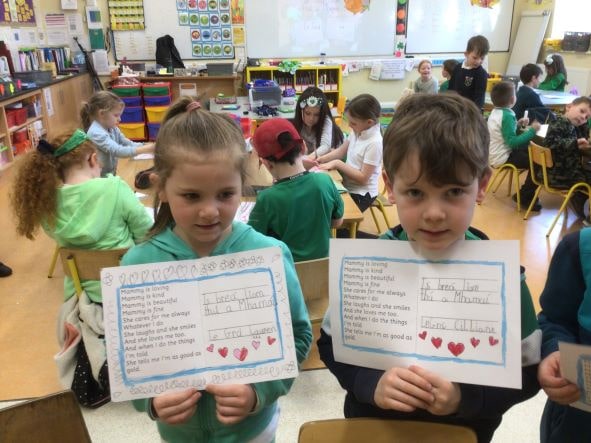 The boys and girls in Senior Infants created shamrocks with shapes and wrote their own sentence to accompany their picture. This sentence was created collectively by the children.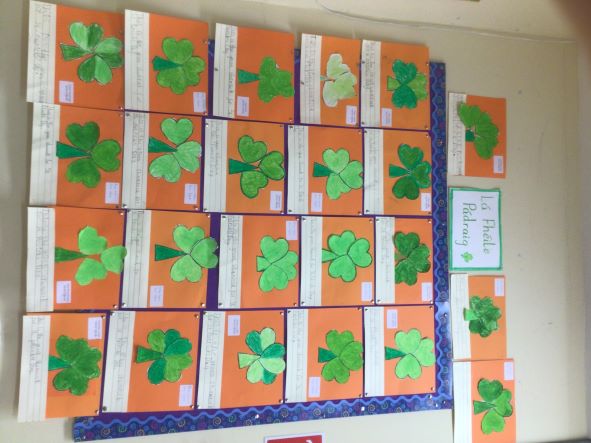 Senior Infants have had such a brilliant time preparing for Easter. They created their own large Easter Eggs cards with accompanying 'Happy Easter' greetings. The children had great fun doing their Easter Chick Collage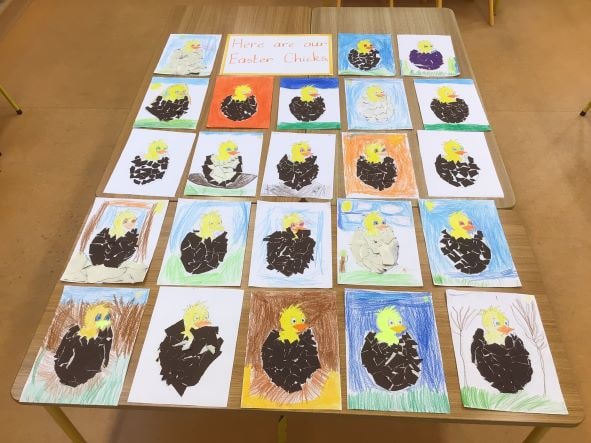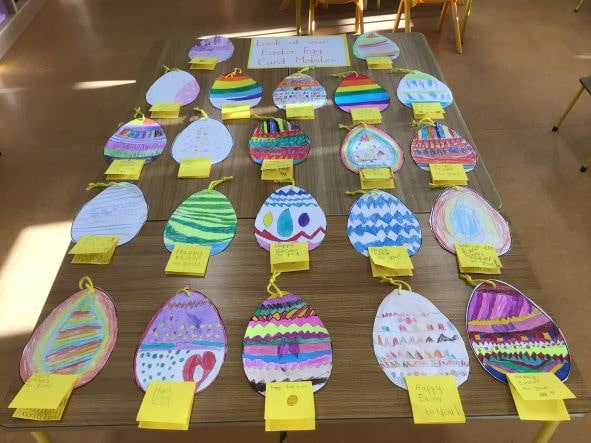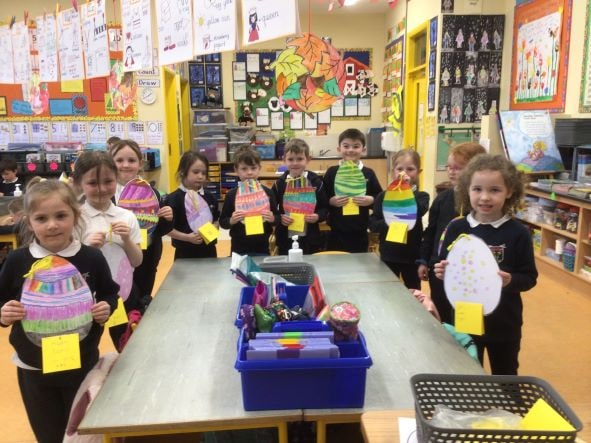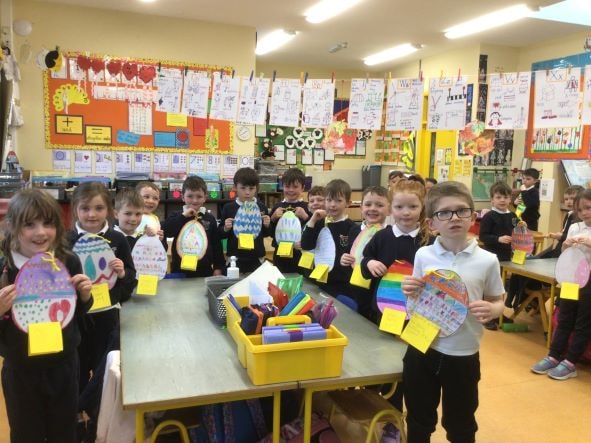 The children had the best fun on our Easter Egg Hunt collecting treats in their beautiful baskets that they made.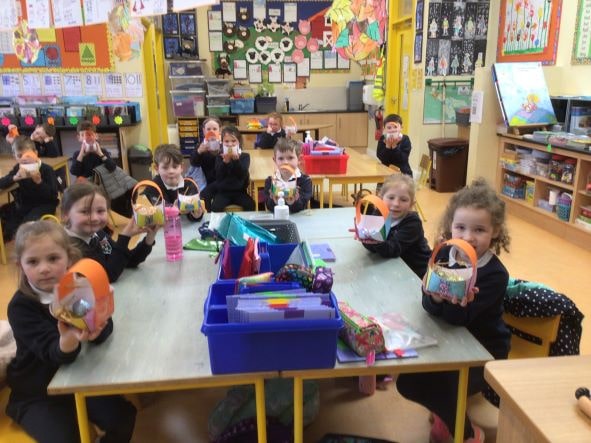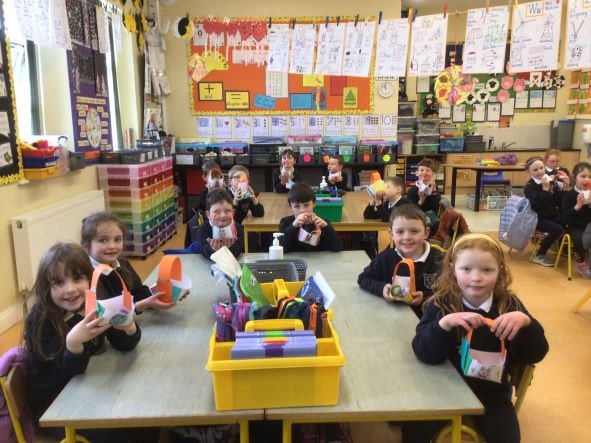 Lots of fun on St. Valentine's Day making our Mr. and Ms.Valentines!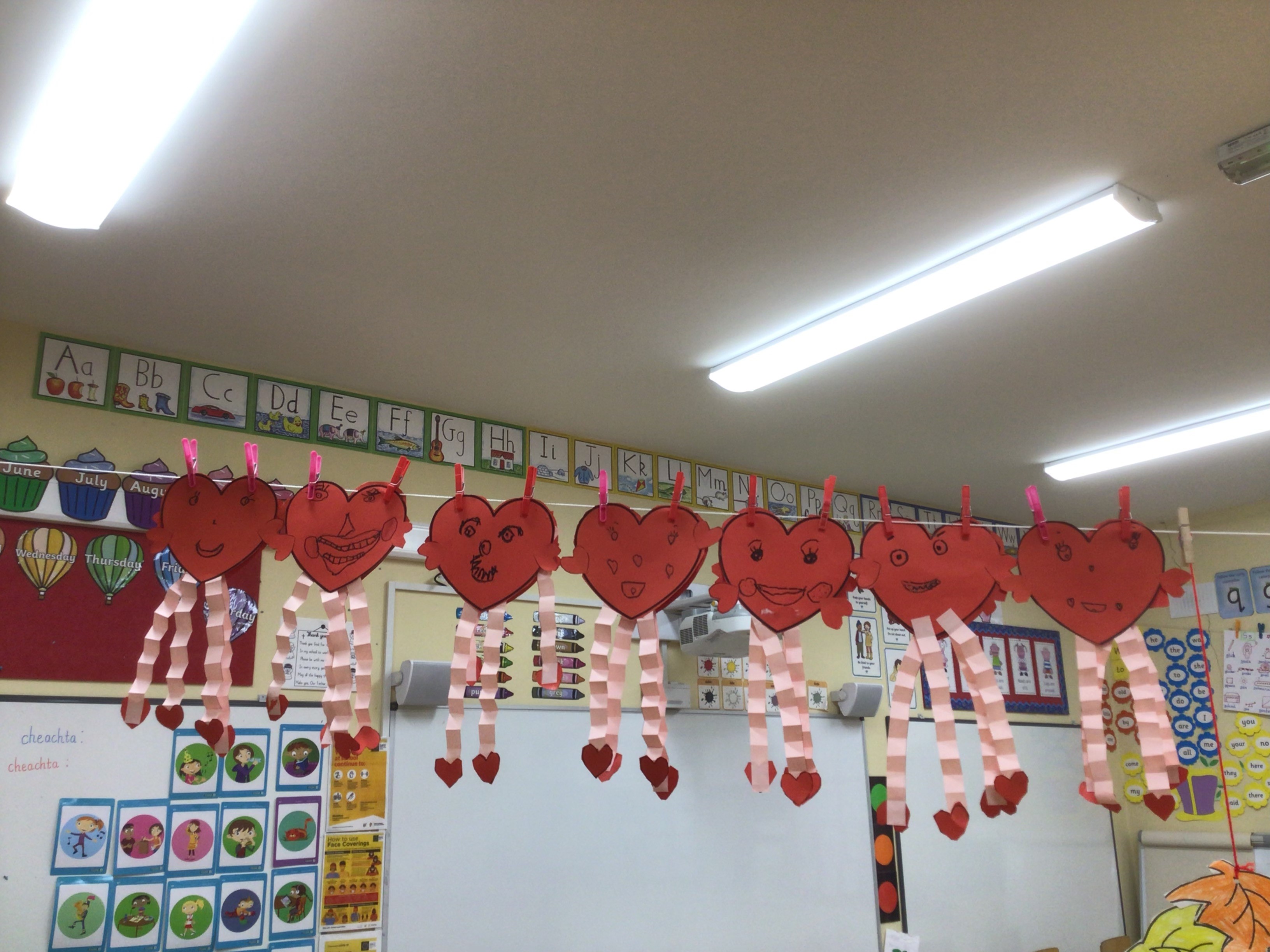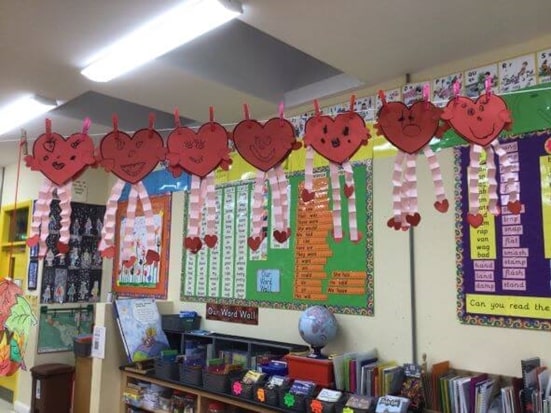 Winter in Senior Infants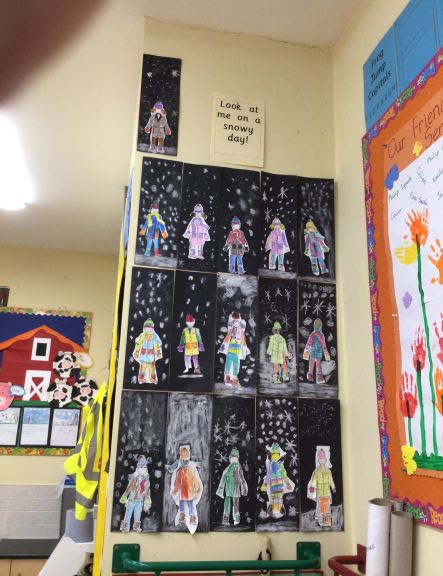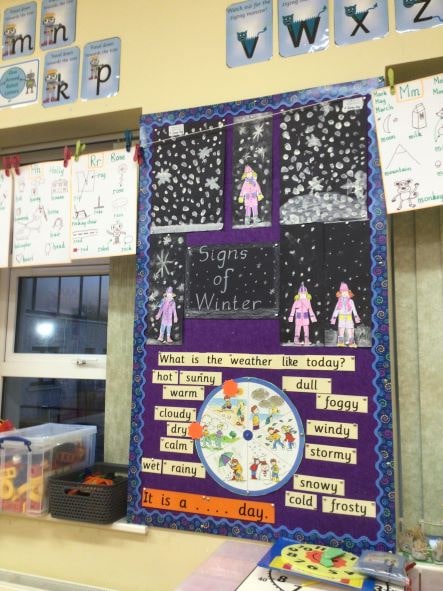 November & December 2021
During the months of November and December the boys and girls in Senior Infants have been working extremely hard in school.
In SESE we learned all about the Moon Landings. Here is our 'Man in the Moon' art work. We learned a brilliant song called 'One Step on the Moon' which we really enjoyed singing.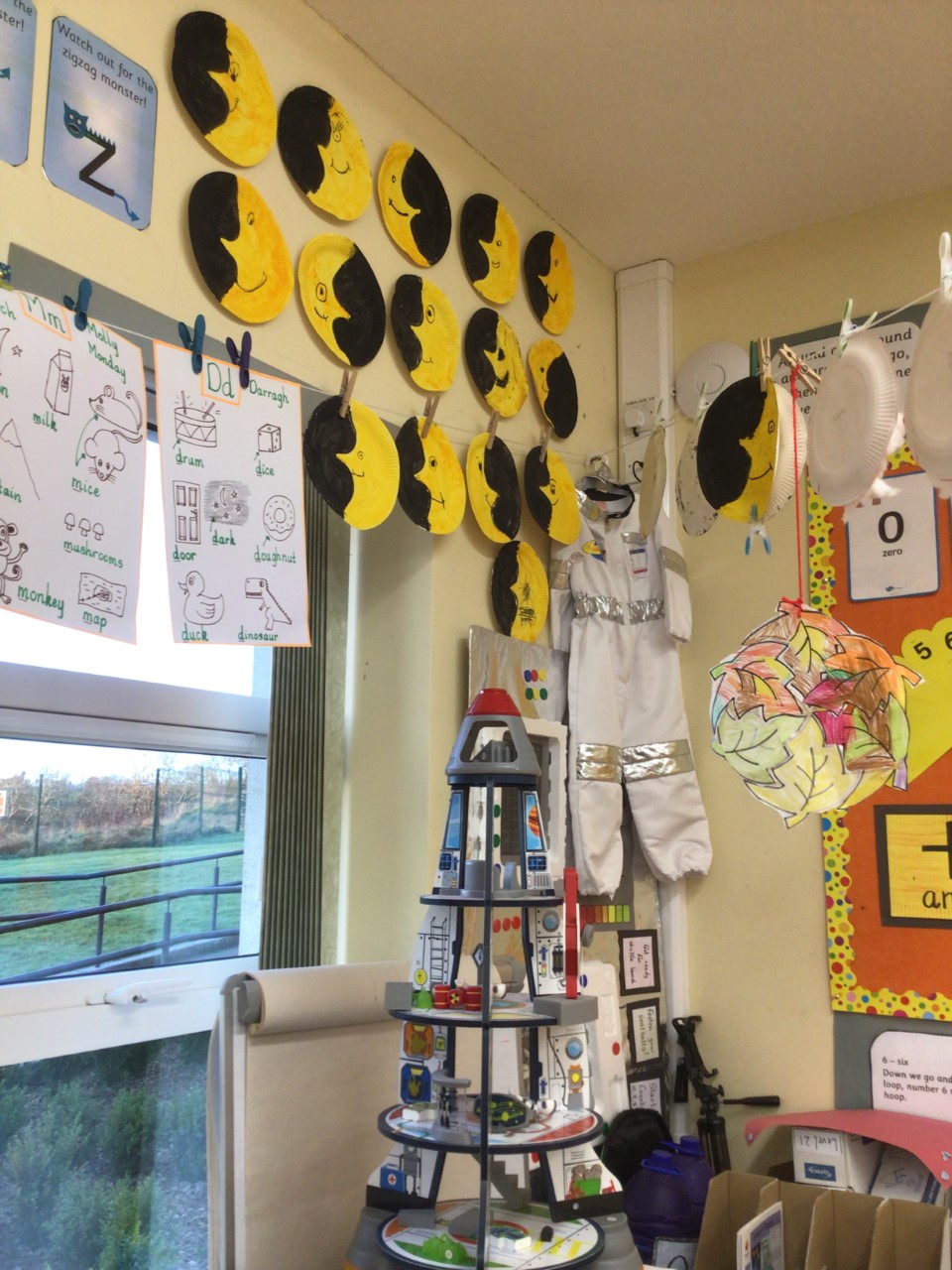 After learning all about working on a farm and some farm animals we created a wonderful farm scene in Art. We all wrote a written report about a farm animal.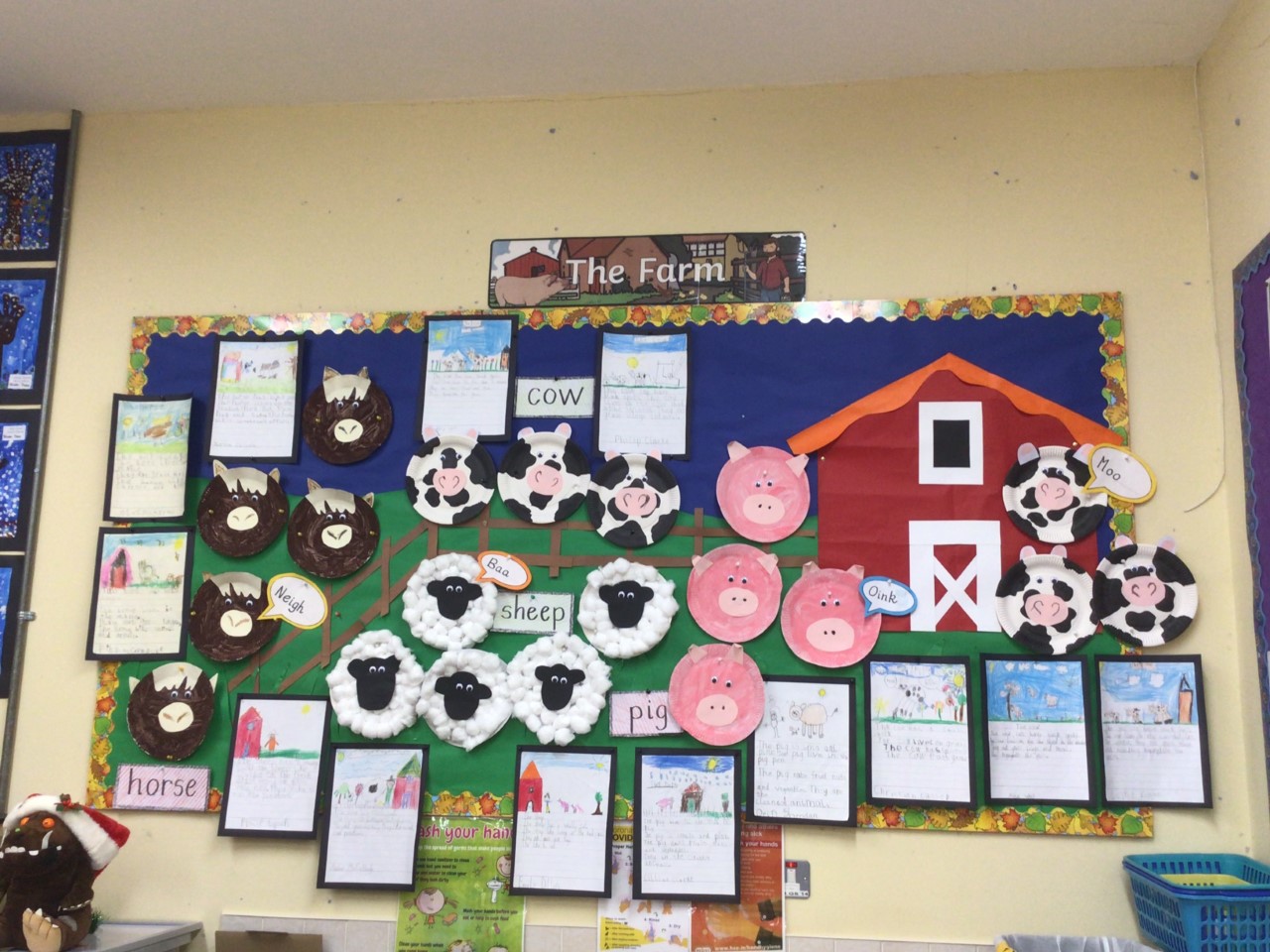 One of the poems we learned was called 'Leaves' which tells us about the changes that happens to our trees and leaves as we transition from autumn to Winter. Our beautiful winter trees reflect what we have learned about these changes.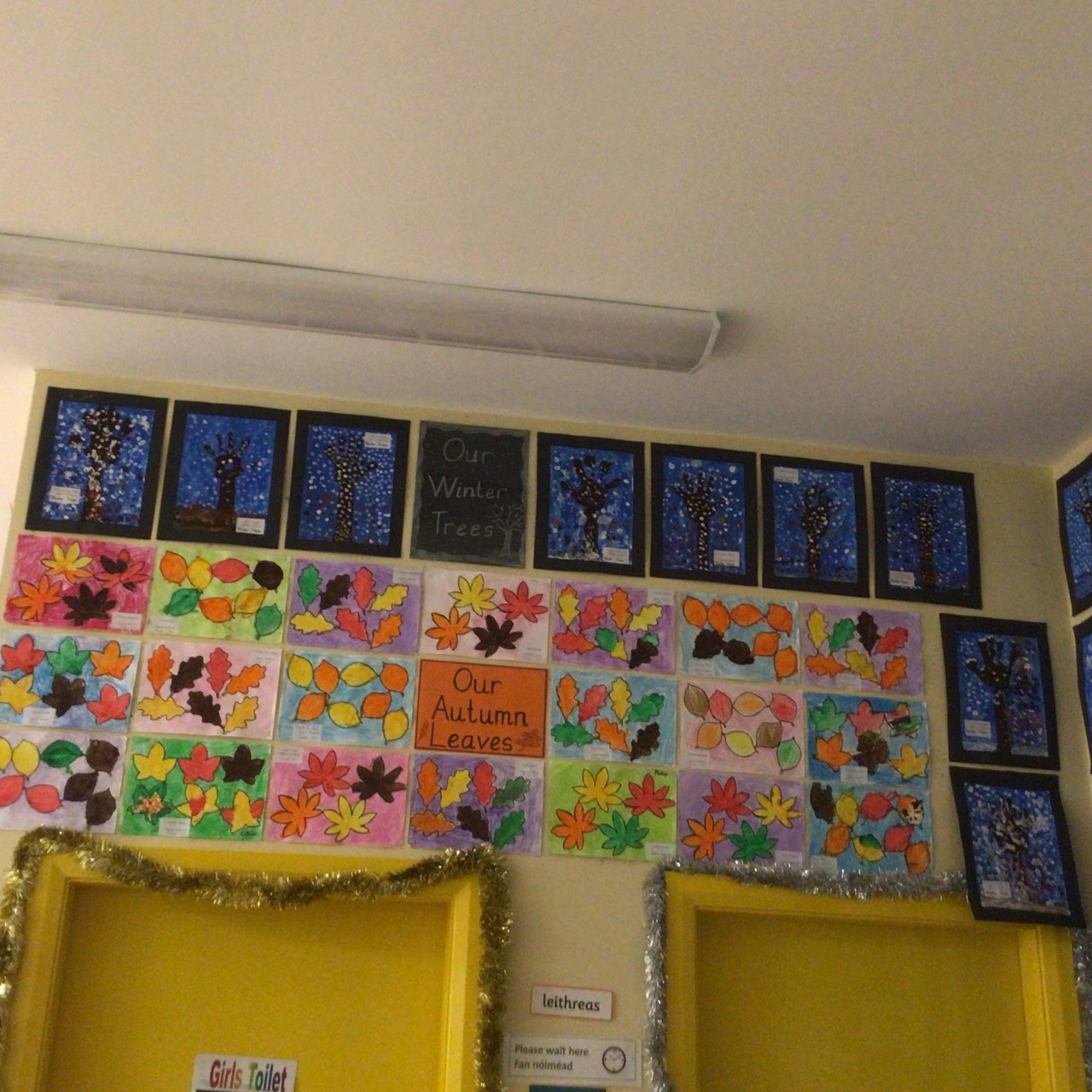 We have continued to work very hard daily with our Guided Reading both in school and at home. We are really enjoying writing sentences using lots of the new High Frequency Words and Key Words that we can now read.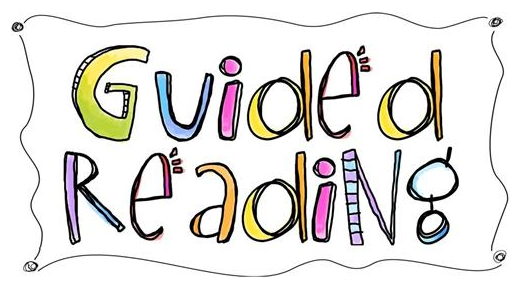 In Maths we have been learning to make and write the stories for our numbers. We have been having great fun learning about, identifying and making 2-D and 3-D shapes.
In Gaeilge we have learned lots of new Christmas vocabulary and we have brought the Christmas theme outdoors by including all the new words learned into our P.E. lessons. You may even have heard us singing Jingle Bells as Gaeilge as we warmed up for our P.E. Lessons!
During this month of December we have been very busy just like Santa's little elves making wonderful Christmas art. We had great fun painting, designing and creating. We hope you like our Christmas trees, Santas, and hand print reindeer mobiles.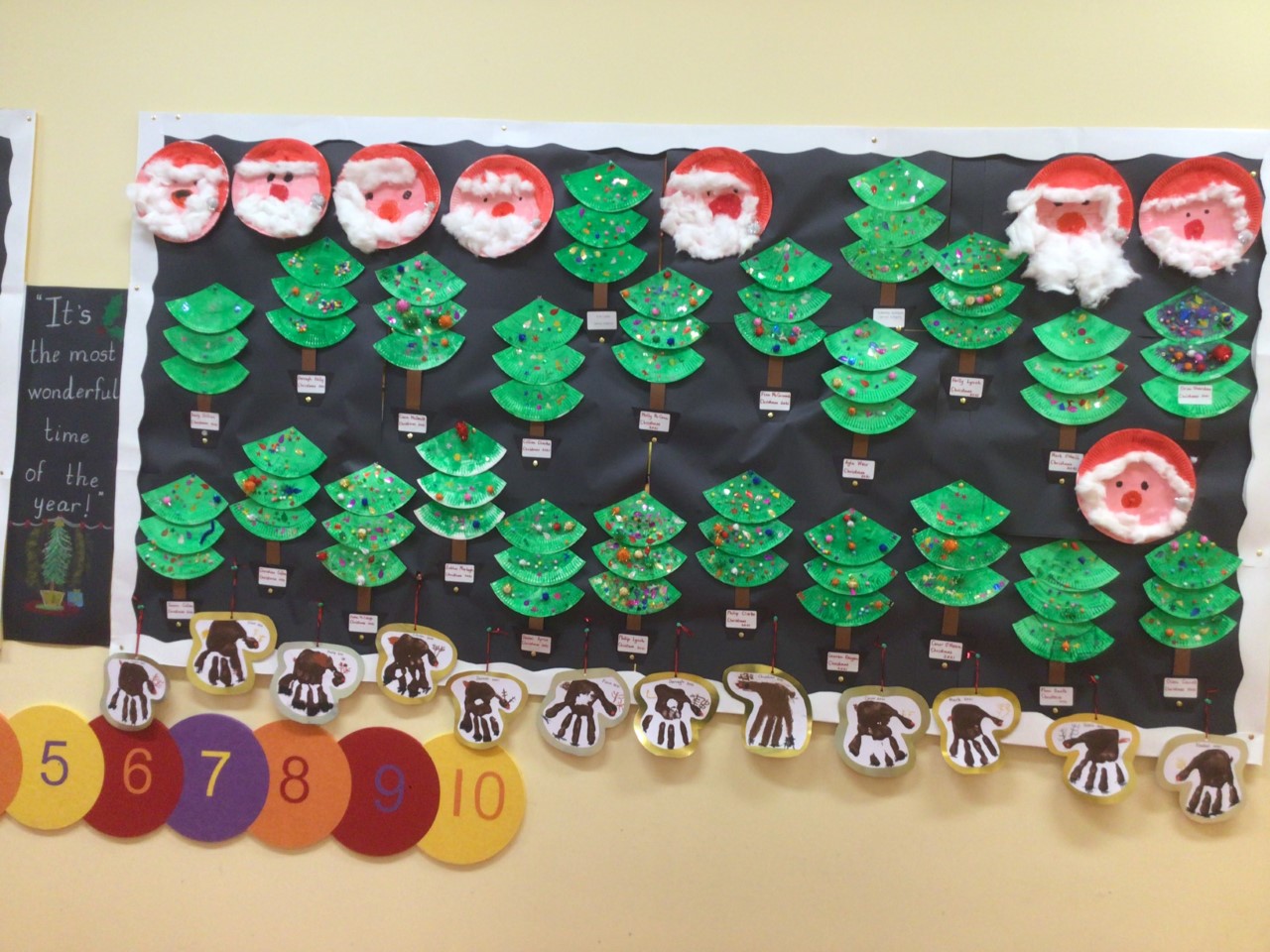 We are especially fond of Rudolph the red-nosed reindeer and last week we performed this wearing our festive clothes!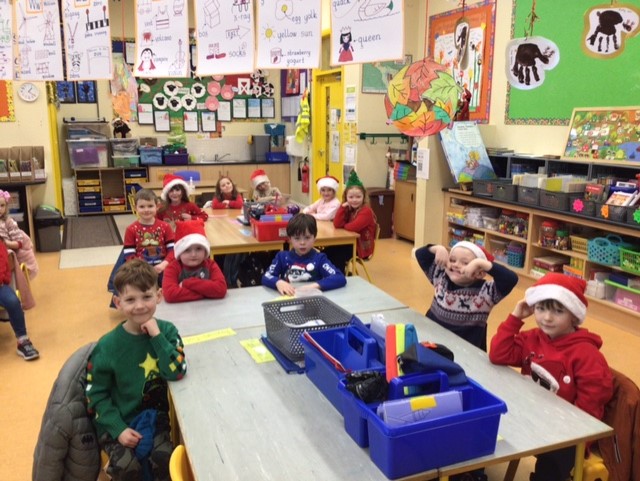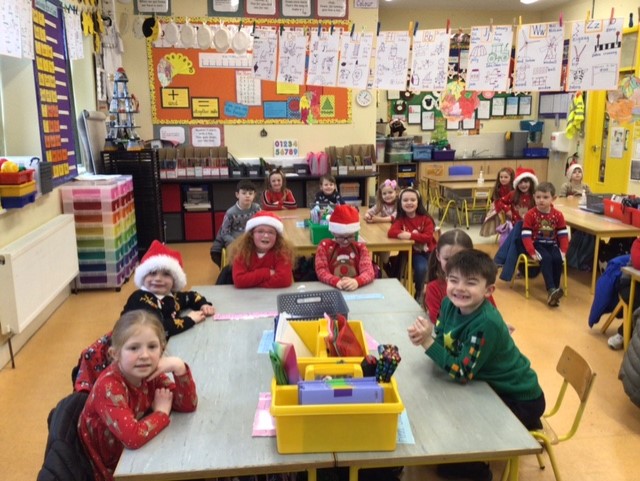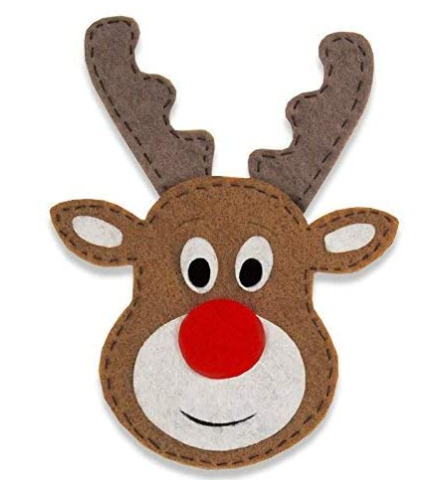 We have been such great boys and girls here in Senior Infants and we have been working so hard for Mrs. Clarke. We are really looking forward to our Christmas holidays now! Mrs. Clarke is so proud of us all! Happy Christmas! From Senior Infants
---
September & October 2021
Senior Infants celebrated Friendship Fortnight. They created a friendship board using their handprints. They learned the song 'Count on Me' outside, with their friends in Junior Infants. They also sang it outside together with all the other boys and girls in the school.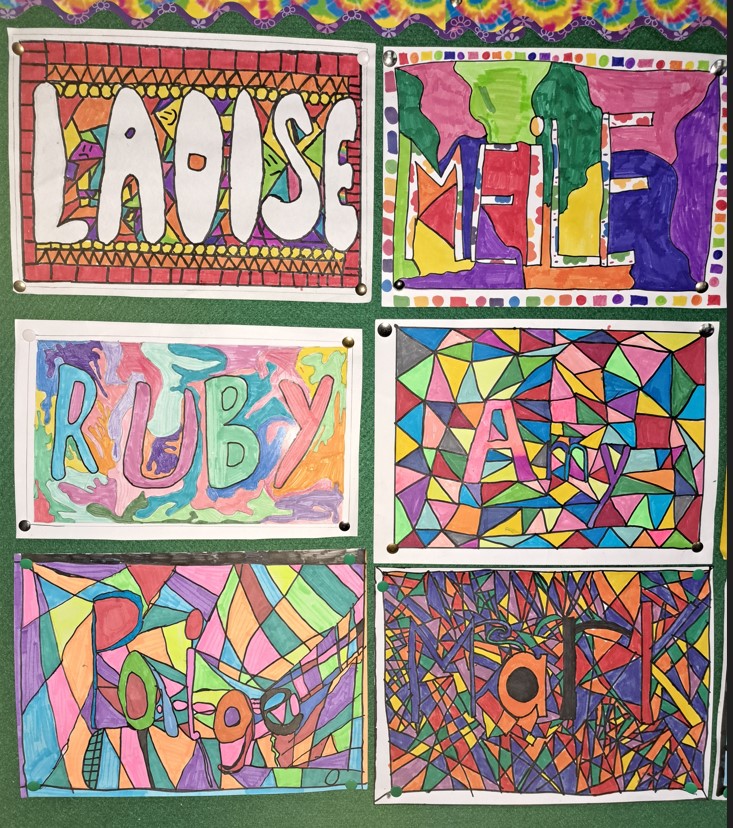 In September we learned 'All About Me'. We created and designed beautiful self-portraits and we had great fun designing our names!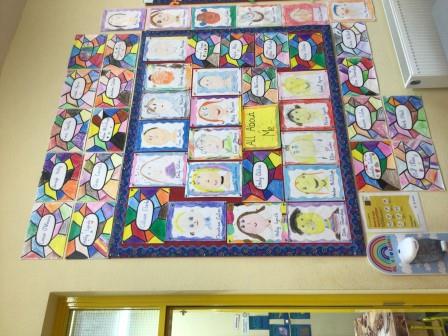 We designed Halloween Pumpkins for Maths Week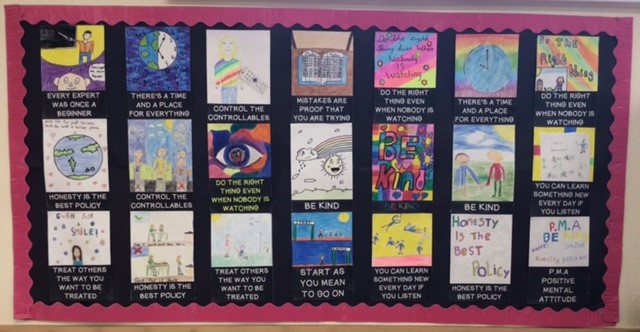 We designed these fantastic Halloween Witches to represent our song, 'Witches of Halloween and our poem, 'Witch, Witch', which we learned and performed for Halloween.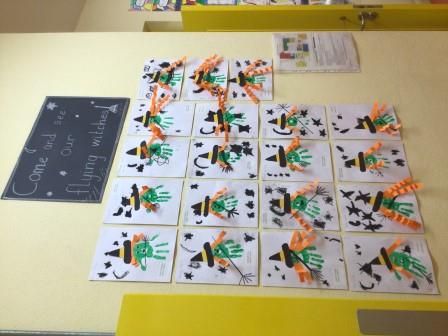 Look at all the boys and girls dressed up for Halloween in their amazing costumes!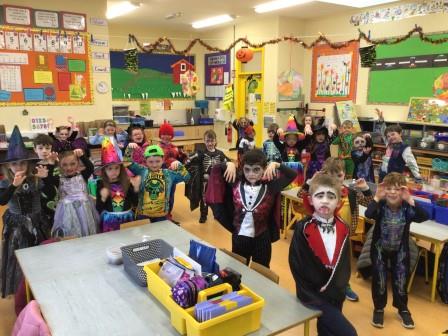 In SESE we learned all about hedgehogs and during our art lesson we formed hedgehogs in clay.