Doodle for Google
Huge Congratulations to Michella Cundelan on being selected as a finalist in the 2017 Doodle for Google competition.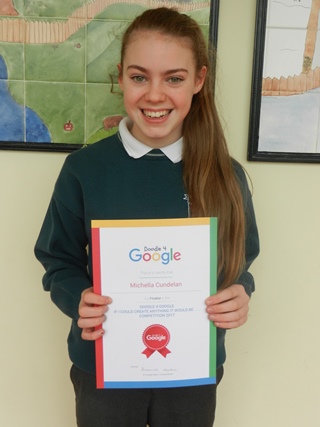 Michella's doodle for Google was based on the theme: 'If you could create anything it would be'.
Her entry was all based around World Peace.
Winners are picked by public vote only.
Her entry will be live from the 7th of February until 21st February on doodles.google.ie/d4g/.
We need as many people to vote for her as possible, so please get voting and spread the word.
SUPER TROOPERS
We are starting our 'Super Troopers ' programme in school this week - 23rd January 2017.
Super Troopers is a health homework programme which was devised by Laya Healthcare  along with teachers and a team of health experts.
Super Troopers is all about having fun. The only rule is to get stuck in and have great fun.
Each child has received an Activity Journal which is full of fun activities to help you get moving , feel better and help towards your 60 minutes of activity everyday. Children can do lots of these activities on their own but it would be much more fun to get all the family involved, so there is a Family Activity Wall Chart for the whole family to record their progress.
For more fun activities or to find out more about the programme please visit: www.supertroopers.ie
Best of Luck everyone and remember
HAVE FUN!!!!!
Dates for your Diary
Community School Assessment Test - Saturday 28th January 9.30am - 1.30pm
Mid-Term Break - Thursday 23rd  & Friday 24th of February - School Closed
School Photographs - Tuesday 28th February
Confirmation - Saturday 11th March - St. Anne's Church
St. Patrick's Day - Friday 17th March - School Closed
Easter Holidays - Friday 7th April. School reopens Monday 24th April
First Holy Communion - Saturday 20th May - St. Anne's Church
PARENTS' ASSOCIATION ANNUAL DRAW 2016
The Parents' Association Annual Draw took place in the school on Friday 16th December.
Congratulations to all the winners.
1st Prize: €500- Paul Brady, Virginia
2nd Prize: €250- Garry McDonald, Galbolie
3rd Prize: €150- Cian Smyth, Cloverhill
4th Prize: Meal Voucher for 2- TJ O' Brien, Dromore
5th Prize: Turkey or Ham- Shane Mulligan Lurganaveele,
6th Prize: A bottle of Whiskey- Philip Clarke, Leiter.
On behalf of myself and the staff of the school we would like to thank all those who supported the draw this year as it provides funding for very necessary resources for the children and the school.
Christmas Shoebox Appeal 2016
Thank you to all who donated shoe boxes for the Christmas Shoebox Appeal
in aid of ICHH - Inner City Help for the Homeless.
78 shoe boxes were donated for this worthy cause.  Well Done to all!!
Newsletters
Christmas Concert 2015
'One Night in Bethlehem'
Our Christmas Concert 'One Night in Bethlehem' took place in St. Anne's Church on Thursday evening last. The children showcased their musical and acting talents by playing some instrumental pieces, to set the scene before the main event of telling the story of the Nativity, through song and narration. Huge congratulations to all the children for putting on a fantastic show. Thank you to all the teachers for preparing the children so well.  A special thanks to Mrs. McDonnell and Mrs. Keegan for producing and directing the performance.   Also, thank you to Mr. Michael Gaskin and his musicians for accompanying us on the night.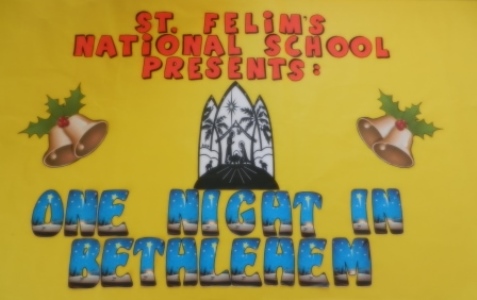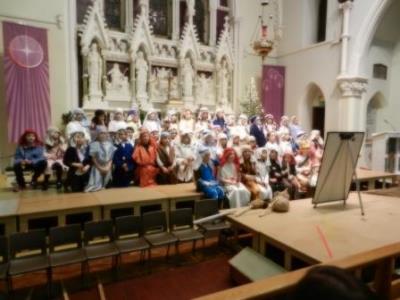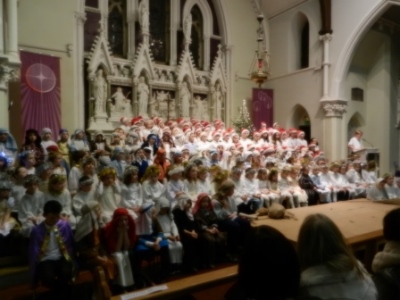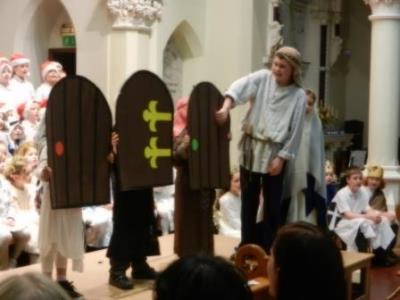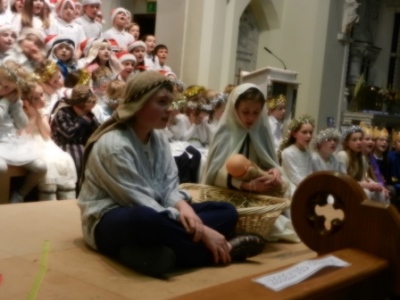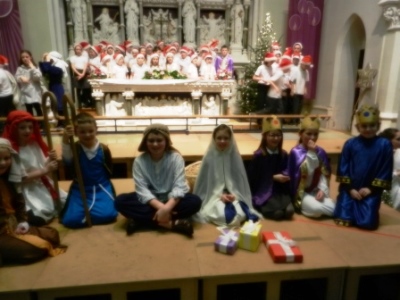 Blessing of the New Extension
On Friday 11th December a prayer service was held in the school to mark the opening of the new extension. The new extension is a fantastic asset to our school and links seamlessly with the existing building. The Most Reverend Bishop Leo O'Reilly led the prayer service. He also blessed the new extension and the plaque which will take pride of place in the new extension. The children sang their hearts out on the day. Refreshments after the ceremony were enjoyed by those who attended. A great afternoon was had by all!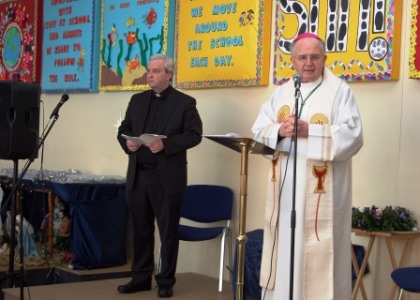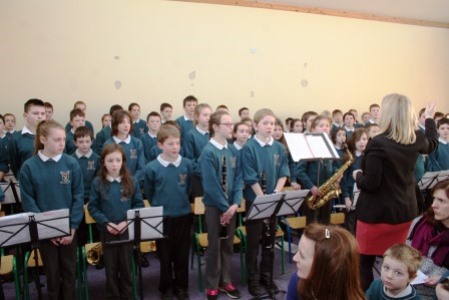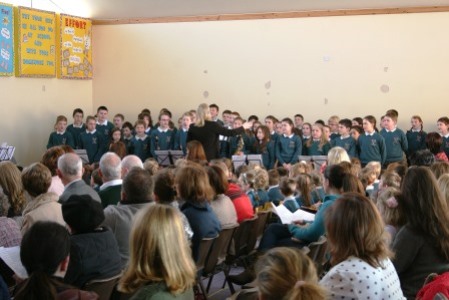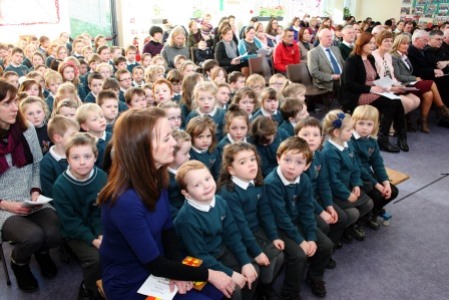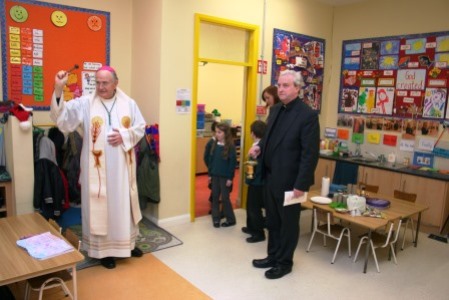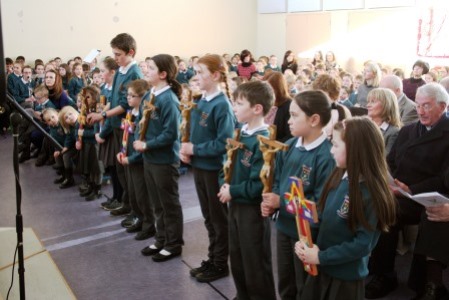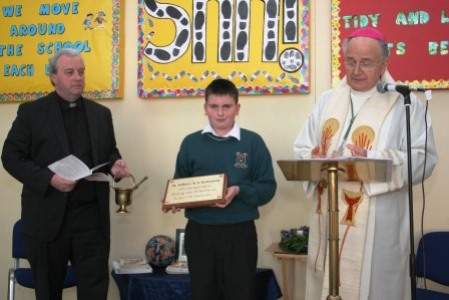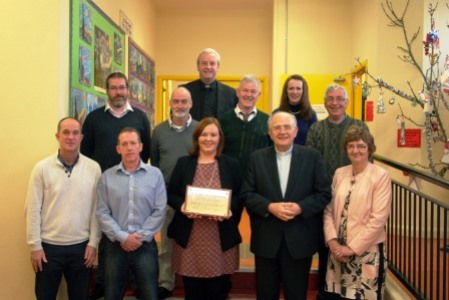 New Extension 2015
Our new extension of two classrooms complete with en-suite bathrooms, a new disabled toilet and new office is now open. The Junior and Senior Infants children and teachers are very happy with their new classrooms.
Here are some photos of the new extension,